ACTIONABLE INTELLIGENCE FROM INDUSTRY EXPERTS
ACT RESEARCH IS THE LEADER IN PROVIDING INDUSTRY DATA, MARKET ANALYSIS, AND FORECAST FOR THE N.A. COMMERCIAL VEHICLE AND TRANSPORTATION MARKETS.

FOLLOW KEY MARKET INDICATORS
The impact of COVID-19 on all industries is a rapidly evolving storyline. ACT will update this information on a daily basis for your benefit. We believe these are the best set of indicators (all updated on a daily or weekly basis) to take the pulse of the economy and continually understand the story as it unfolds. ACT's award-winning team of experts are working to keep clients and the industry up to date with rapidly changing business conditions.
Bookmark this page and check in daily to follow these market indicators and the commentary our team provides on COVID-19 impact on our world.

High Frequency Market Indicators- August 6th, 2020

2020 High Frequency Data Table
*Updated August 6, 2020 @ 5:30 pm EST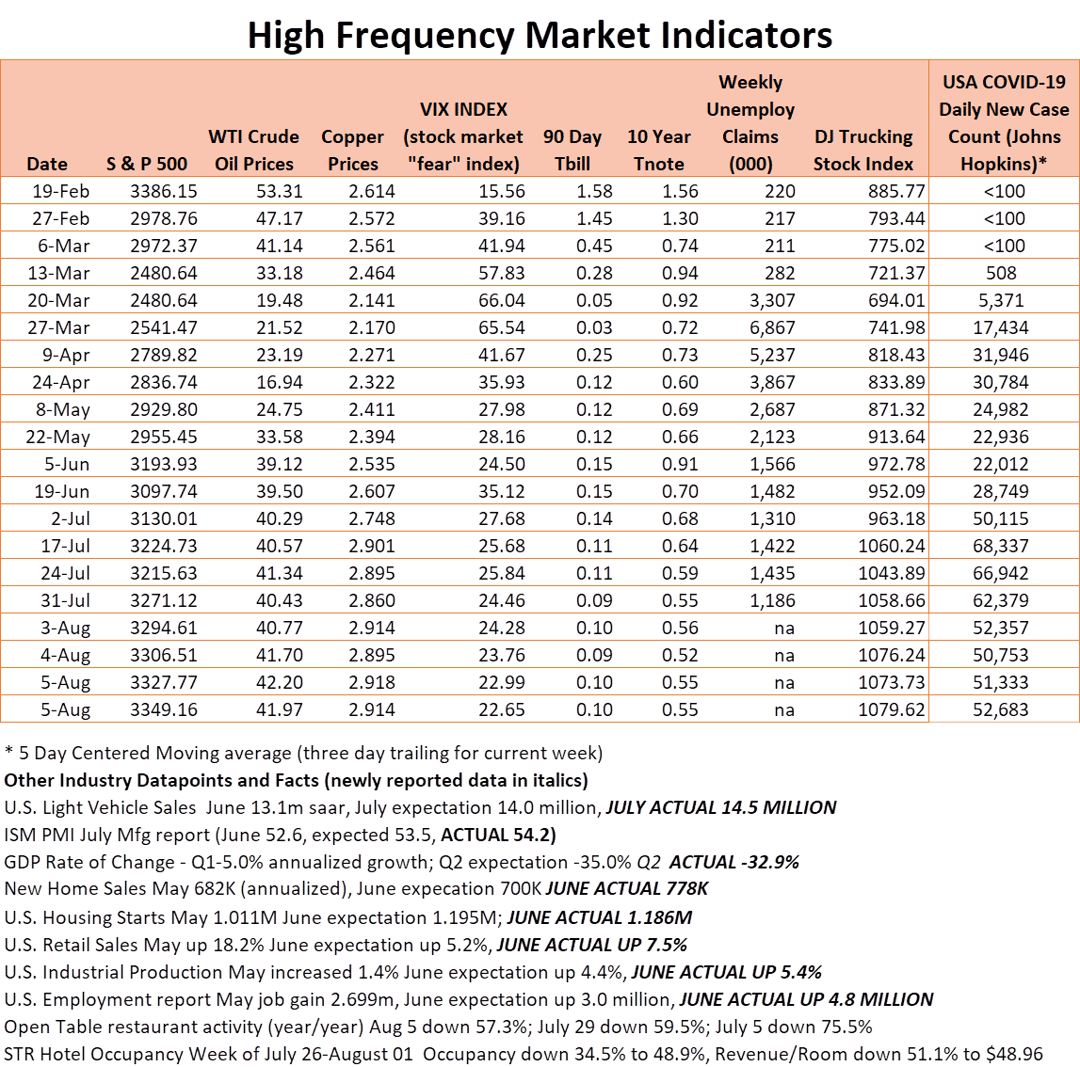 ACT Research Commentary and Insights
While personal income and consumer spending data was released today, it came in as expected and the information did not impact business expectations. What is commanding attention is the rise in COVID-19 cases – new cases reported today almost reached 40,000, and the 5 day moving average has steadily moved up day-by-day over the last few weeks, reviving concerns of another mass shutdown of business and stay-at-home by individuals.


Financial markets reacted by taking stocks down significantly, commodities down slightly, and interest rates were sent modestly lower. Business managers and planners will be locked in evidence of an escalation in contagion and the potential setback to the progress of May and early June.

MONTHLY PURCHASING MANAGERS TABLE
*Updated June 1, 2020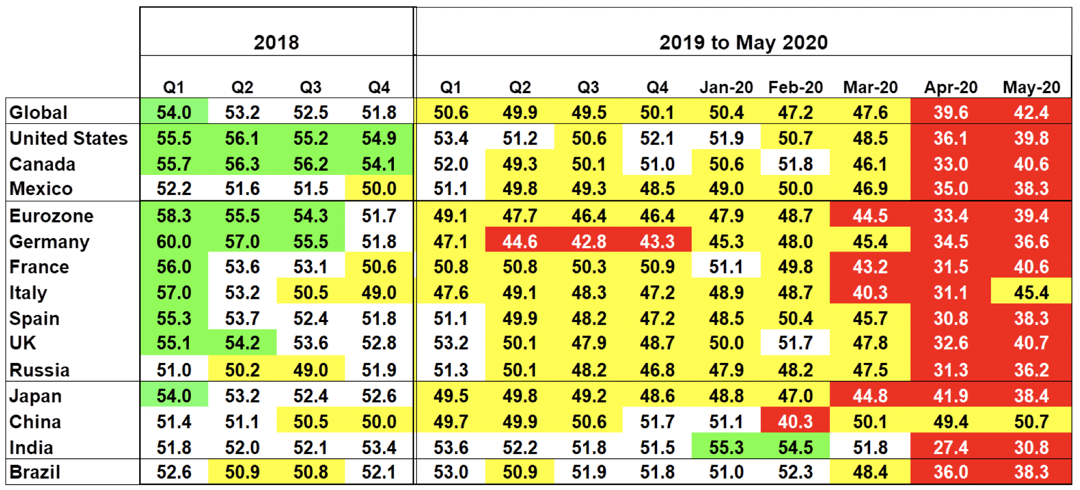 ACT Research Commentary and Insights
In most of the industrialized world, the index values point to a recession in May, and generally a deepening recession.
A few countries, especially those that suffered a very traumatic April had a reduction in severity in May (see UK, France, and especially Italy) – this could be more a statement of how bad April was rather than May being the light at the end of the tunnel. Note that Japan had a deep deceleration in April, and then a lower reading (indicating steeper rate of decline) in May. In North America (as with UK France and Italy) the weakest April numbers were followed by May that weren't as severe.

WEEKLY NORTH AMERICAN RAIL VOLUMES BY SEGMENT
*Updated June 16, 2020


IHS Markit Composite PMI & U.S. GDP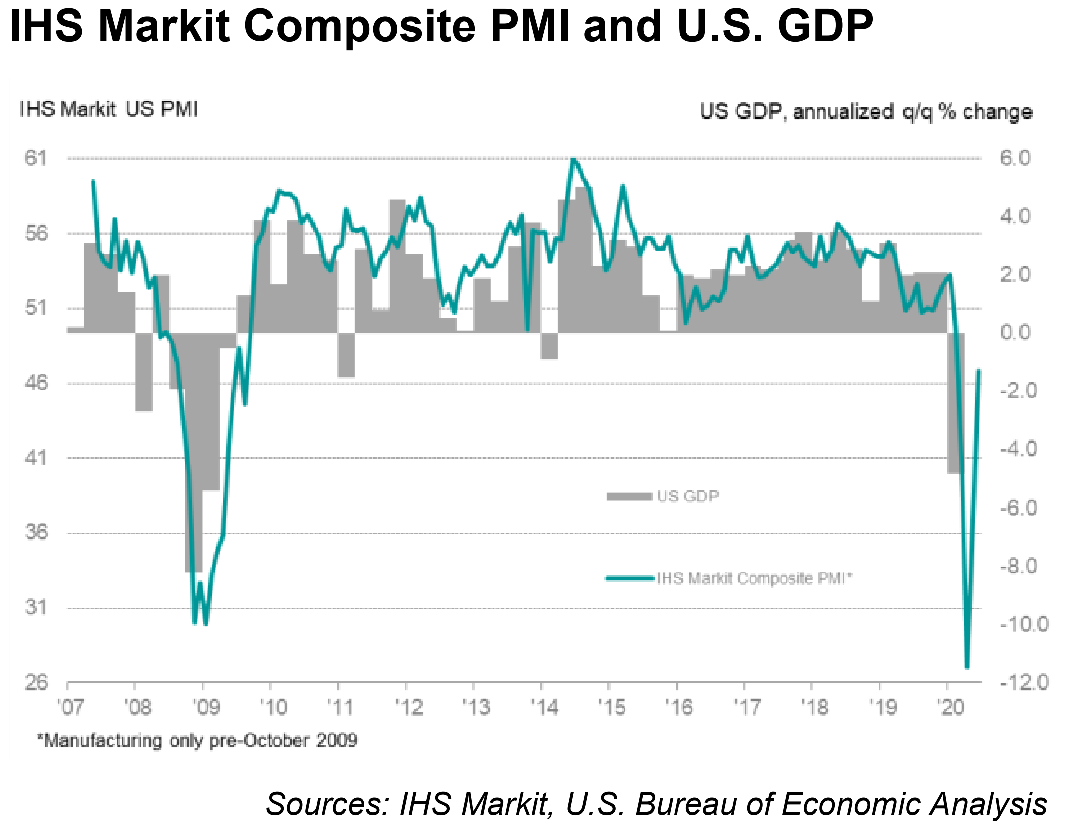 ACT Research Commentary and Insights
In June, USA manufacturing was close to even keel, flatlining with some promise of even better to come. The services index at 46.7 still suggests a very slight downslope, but so far from the "one-handle" of April that it too points to a surprisingly fast, and perhaps steep-sloped rebound. This is what Markit had to say about manufacturing:
"The marked softening in the pace of overall decline largely stemmed from notably slower falls in output and new orders. Although still signaling contractions, rates of decrease were their slowest since before the escalation of the pandemic."


Two export powerhouses, Germany and Japan, still have manufacturing PMIs under 45, our benchmark for recession. It's better there than 2 or 3 months ago, but the stabilization is not as advanced as in the USA, or UK or France

MONTHLY INDUSTRIAL PRODUCTION TABLE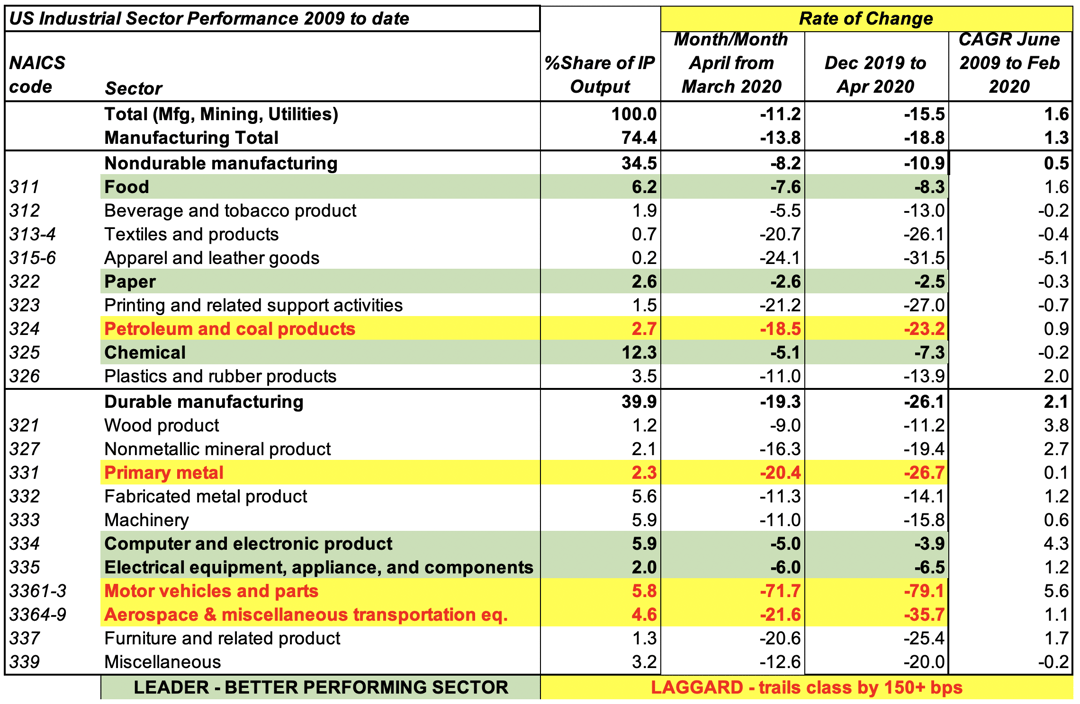 ACT Research Commentary and Insights
April recorded the largest decline in industrial production on record, with this series going back 100 years (staring in 1921)
Total manufacturing output in December is down almost 19% from December 2019
Particularly hard hit in April were (parenthesis is decline in April from March levels)
No sector showed a gain
Relatively good performance was turned in by

WEEKLY NORTH AMERICAN INTERMODAL VOLUMES BY RAIL
*Updated June 16, 2020

Want more insights into ACT's view of the Freight markets? Listen below or CLICK HERE to listen to a Freight Webinar recorded March 26, 2020.