ACTIONABLE INTELLIGENCE FROM INDUSTRY EXPERTS
ACT RESEARCH IS THE LEADER IN PROVIDING INDUSTRY DATA, MARKET ANALYSIS, AND FORECAST FOR THE N.A. COMMERCIAL VEHICLE AND TRANSPORTATION MARKETS.

FOLLOW KEY MARKET INDICATORS
The impact of COVID-19 on all industries is a rapidly evolving storyline. ACT will update this information on a daily basis for your benefit. We believe these are the best set of indicators (all updated on a daily or weekly basis) to take the pulse of the economy and continually understand the story as it unfolds. ACT's award-winning team of experts are working to keep clients and the industry up to date with rapidly changing business conditions.
Bookmark this page and check in daily to follow these market indicators and the commentary our team provides on COVID-19 impact on our world.

DAILY MARKET WATCH UPDATE - June 5, 2020

HIGH FREQUENCY MARKET INDICATORS
*Updated June 5, 2020 @ 5:00pm EST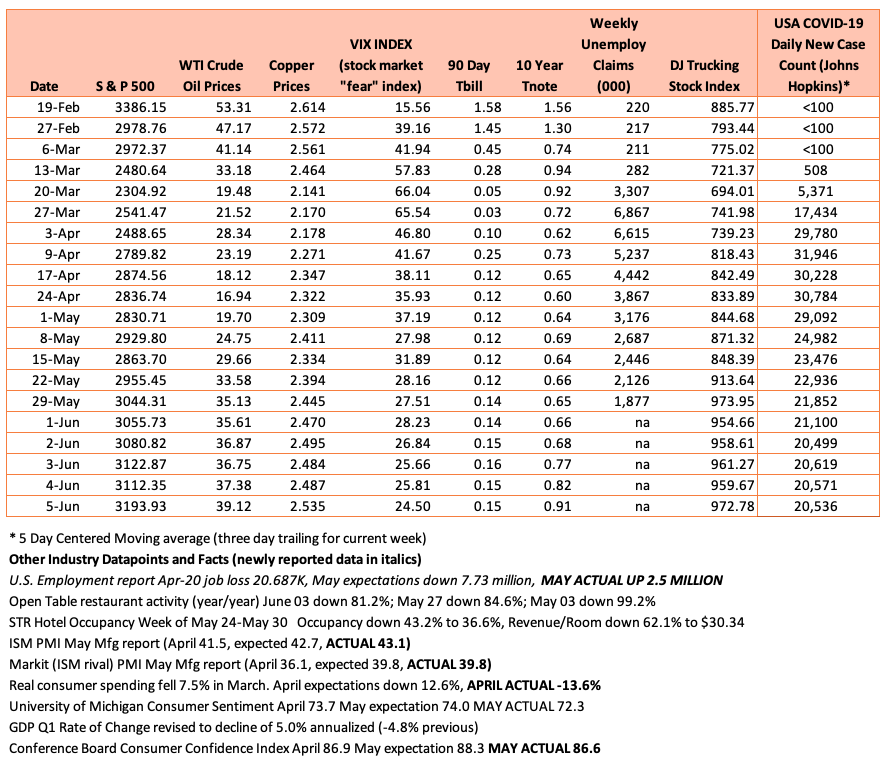 ACT Research Commentary and Insights
A stunning US jobs report for the month of May showed a job GAIN of 2.5 million. This ran counter to analyst expectations of a report that would show 7.7 million job LOSS. It reversed direction from April which had a 20.69 million net job loss. The unemployment rate went in a better direction, to 13.3% in May from April's 14.7 (expectation was 19.8%)
The report set the tone for the day - the Dow Jones index gained over 800 points. Major stock indexes narrowed losses on the year to near zero, WTI oil prices rose to nearly $40/bbl, and long bonds sold off with yields rising to 0.90%.
Trucking stocks gained on the day….. while good news on the employment front was welcome, it did also raise questions of why many other surrounding indicators that usually move somewhat consistently are all over the map.

MAY ISM MANUFACTURING DATA
*Updated June 1, 2020
**Source ISM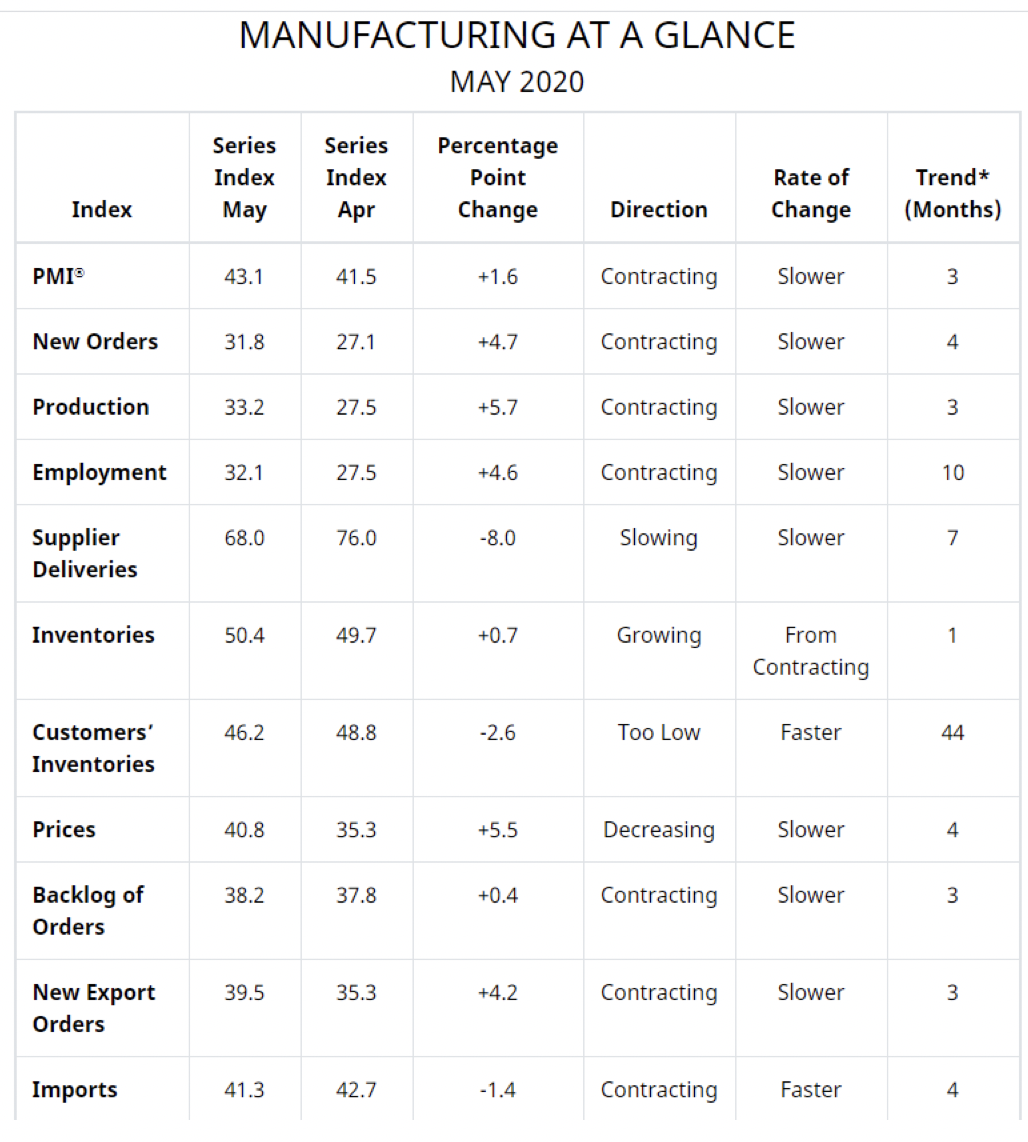 ACT Research Commentary and Insights
Both major surveys of manufacturing purchasing managers in May (ISM at 43.1, Markit at 39.8) show on-going declines in manufacturing (50 is breakeven/flat)

While both increased from depresses April levels, they still remined mired in recession territory (readings below 45 generally indicate recession)

Detail available in the ISM report showed acute weakness in new orders at 31.8 (Apr 27.1), production at 33.2 (Apr 27.5) and employment at 32.3 (Apr 27.5). Boosting the number were supplier deliveries. Usually higher index numbers mean slower deliveries because of strained supply chains struggling with hyperactive demand; paradoxically this time around slower deliveries are linked to business condition irregularities caused by COVID-19.

ACT RESEARCH CLASS 8 TRACTOR DASHBOARD
*Updated May 16, 2020

ACT Research Commentary and Insights
The COVID-19 recession pushed the dashboard from marginally negative to a significant red light from February to April

All the SOI rows (bottom five indicators) and most of the economic and freight indicators (top 10 rows) are negative

The Dashboard confirms what we knew in March – freight and Class 8 tractors are in a deep recession

EUROPEAN UNION ECONOMIC INDUSTRIAL PRODUCTION DOWN 11.3%
*Source: EUROSTAT

ACT Research Commentary and Insights
Numbers were weaker than expected

Long horizon goods output – capital goods and consumer goods – were especially hard hit

MONTHLY PURCHASING MANAGERS TABLE
*Updated June 1, 2020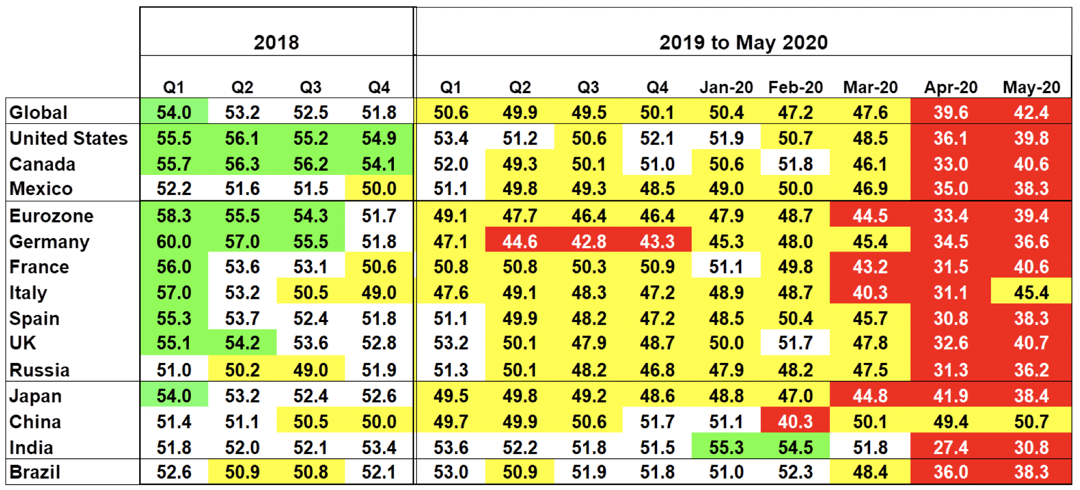 ACT Research Commentary and Insights
In most of the industrialized world, the index values point to a recession in May, and generally a deepening recession.
A few countries, especially those that suffered a very traumatic April had a reduction in severity in May (see UK, France, and especially Italy) – this could be more a statement of how bad April was rather than May being the light at the end of the tunnel. Note that Japan had a deep deceleration in April, and then a lower reading (indicating steeper rate of decline) in May. In North America (as with UK France and Italy) the weakest April numbers were followed by May that weren't as severe.

WEEKLY NORTH AMERICAN RAIL VOLUMES BY SEGMENT
*Updated May 20, 2020


FEDERAL RESERVE CORONAVIRUS STATEMENT
The Federal Reserve, recognizing coronavirus "causing tremendous human and economic hardship" pledges to maintain near zero interest rates "until it is confident that the economy has weathered recent events" and to aggressively support the flow of credit to households and businesses (QE infinity).
Read the full press release HERE.

MONTHLY INDUSTRIAL PRODUCTION TABLE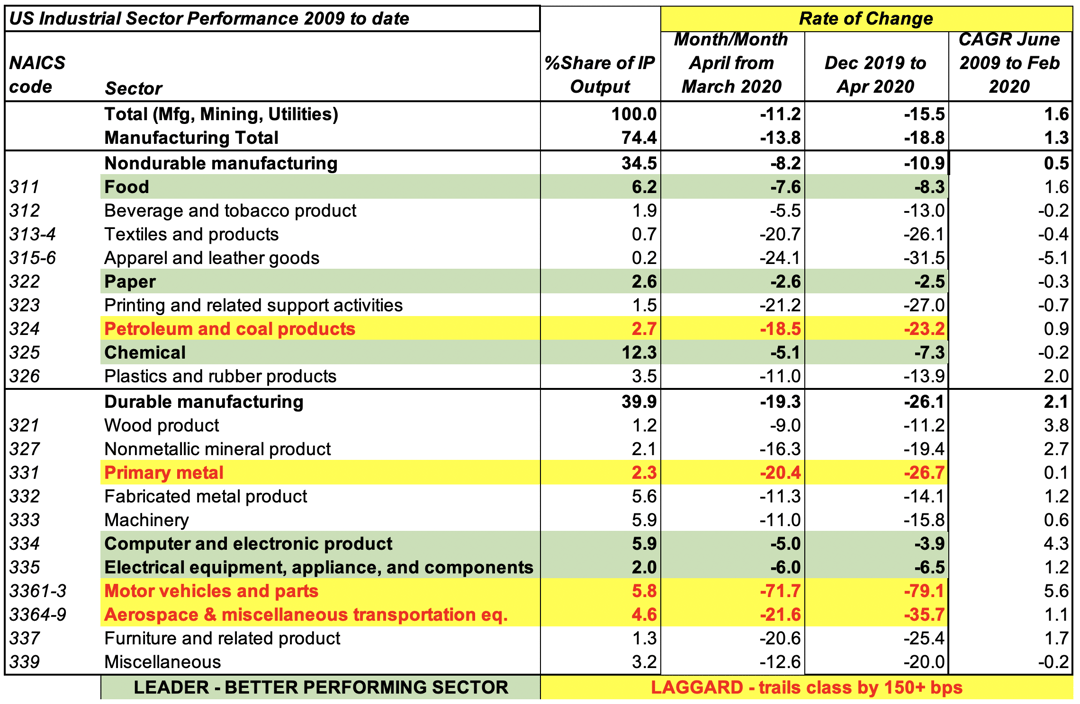 ACT Research Commentary and Insights
April recorded the largest decline in industrial production on record, with this series going back 100 years (staring in 1921)
Total manufacturing output in December is down almost 19% from December 2019
Particularly hard hit in April were (parenthesis is decline in April from March levels)
No sector showed a gain
Relatively good performance was turned in by

WEEKLY NORTH AMERICAN INTERMODAL VOLUMES BY RAIL
*Updated May 20, 2020

Want more insights into ACT's view of the Freight markets? Listen below or CLICK HERE to listen to a Freight Webinar recorded March 26, 2020.